Stevia Sweetener Tablets Dispenser | 2x300
Stevia Tabs | Stevia tablets in mini dispenser Special price!
Sugar-free sweetness on the go.
Table sweetener based on steviol glycosides 2x300 tablets.
Always at hand and easy to dose with the handy mini dispenser that fits in any handbag or jacket pocket. With the plant-based sugar alternative, you can have a sugar-free diet with almost no calories. Even on the go, if you want to enjoy your coffee to go or tea, the Stevia sweetener tablets with less than 1 kcal per tablet are always at hand.
This steviapura® quality product is obtained from the Stevia rebaudiana plant. The dispenser can be refilled with our refill packs in an environmentally friendly and cost-effective manner.
Sweet and enjoy calories with the steviapura® Stevia Tabs.

Ask?
We are happy to advise you personally!
Tel: 0221-397 80 292
Produkteigenschaften:
Stevia Tabs | Stevia Tabletten
Produktbezeichnung:
Tafelsüße auf der Grundlage von Steviolglykosiden
Zutaten: Isomalt|Süßungsmittel Steviolglykoside, Rebaudiosid A [25 g/100 g] mit einer Reinheit von mind. 95%|Sodium Carbonat|Citrat
Qualität: Premium Qualität aus besten Rohstoffen
Hergestellt: in Deutschland nach IFS, GMP Standard
Lagerung: Kühl und trocken
Verpackung: Dosierspender ist nachfüllbar
Geschmack: sehr süß
Verwendungsvorschläge: zum Süßen von Kaffee, Tee sowie heißen und kalten Getränken
Nährwerttabelle
Durchschnittliche Nährwertangaben

Pro 100g

Pro Stück

GDA

steviapura Tabs

(1667 Stück)

(60mg)

pro Stück

GDA*

Brennwert

870 kJ (208 kcal)

0,52 kJ (0,1 kcal)

0,00%

2000 kcal

Eiweiß

0,0 g

0,0 g

0,00%

50 g

Kohlenhydrate

40,5 g

0,02 g

0,00%

270 g

davon Zucker

0,0 g

0,0 g

0,00%

Fett

0,0 g

0,0 g

0,00%

70 g

davon gesättigte Fettsäuren

0,0 g

0,0 g

0,00%

0,0 g

Ballaststoffe

0,0 g

0,0 g

0,00%

0,0 g

Natrium

0,0 g

0,0 g

0,00%

0,0 g

* Richtwert basierend auf einer Ernährung von 2000kcal Tageszufuhr eines durchschnittlichen Erwachsenen.
steviapura® Stevia Tabs sind frei von künstlichen Süßstoffen, Aromastoffen, Dextrose, Fruktose, Laktose, Maltodextrin, Sorbit oder Zucker.
Ideal für heiße und kalte Getränke.
Besonders im Früchte-, Kräuter- aber auch im Schwarz-Tee entwickelt unsere einzigartige Stevia Rezeptur ein ausgewogenes süßes Aroma und Geschmack.
Auch mit Kaffee und anderen Heiß- und Kaltgetränken harmoniert der kalorienfreie Genuss der Stevia Süße.
Durch die praktischen und handlichen Minispender von steviapura® lassen sich die Stevia Tabletten einfach dosieren und sind ein idealer Begleiter für unterwegs.
Eine Tablette entspricht der Süße von einem Teelöffel Zucker.
Sie sparen 20 kcal für jeden Teelöffel Zucker den Sie durch eine Tablette steviapura® Stevia Tablette ersetzen. In einem Jahr entspricht das ca. 4,2 kg Fettgewebe bei vier Tassen Kaffee oder Tee am Tag.
HINWEIS:
Wir verzichten im Interesse der Verbraucher auf chemische Tablettenüberzüge. Dadurch entsteht ein Abrieb der Tabletten im Spender was zum Blockieren führen kann. Spülen Sie den Spender einfach unter fließendem warmem Wasser aus und betätigen Sie die grüne Taste mehrmals. Anschließend gut trocknen lassen und der Spender funktioniert wieder einwandfrei.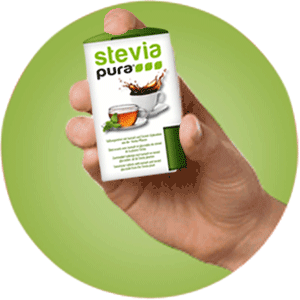 ---