Product description
Stevia Tabs in a handy dispenser
This steviapura ® quality product from the Stevia extract is derived from the Stevia rebaudiana Bertoni plant.
The Stevia Tabs dispenser can be refilled with steviapura ®
1000
or

2500 Stevia Tabs refill pack

.
Product features:
| | |
| --- | --- |
| Specification: | Stevia Tabs - Stevia tablets |
| Ingredients: | Steviol Glycosides >95%,rebaudioside A, Isomalt, Sodium Carbonat, Citrat. |
| Quality: | Premium quality from the best raw materials |
| Manufactured: | in Germany |
| Storage: | Store in cool dry place |
| Packaging: | Dispenser - Refillable |
| Content: | 300 pieces Stevia Tabs - tablets  |  á 18g net  |
steviapura ® Stevia tablets are free of artificial sweeteners, flavors, inulin, lactose, maltodextrin, sugar and erythritol.

What is Stevia?
A native plant of Paraguay, Stevia rebaudiana, also known as honey herb ka'a he'ê (Guarani) and sweet herb, sweet leaf and there used by the Guarani Indians for centuries as a medicinal and sweetener plant. The stevia plant belongs to the daisy family, Latin Asteraceae and belongs to the family of the asters. Today, Stevia rebaudiana is grown and used worldwide. The main varieties are Stevia rebaudiana Bertoni and Stevia rebaudiana Criolla.

The leaves of the stevia plant contain sugar molecules called steviol glycosides or stevioside. The steviol glycosides of the stevia plant are divided into dulcoside, rebaudioside A to F and Stevioside. The rebaudioside A has the highest sweetness and the best sensory properties. It is extracted in a complex process from the Stevia leaves and is the most precious ingredient of Stevia leaves.

Note:
steviapura ® STEVIA GROUP products are manufactured according to GMP, HACCP and ISO 22000 guidelines. steviapura ® raw materials are tested for microbiological purity and pollution. The limits of pesticide residues in leaves of the Stevia Stevia GROUP will be adhered to the guidelines of the European Pharmacopoeia.

Copyright © 2014 Stevia Group I All rights reserved. | Steviapura ® is a registered trademark of Stevia Group.
Ingredients
Produkteigenschaften:
Stevia Tabs | Stevia Tabletten
Produktbezeichnung:
Tafelsüße auf der Grundlage von Steviolglykosiden
Zutaten: Isomalt|Süßungsmittel Steviolglykoside, Rebaudiosid A [25 g/100 g] mit einer Reinheit von mind. 95%|Sodium Carbonat|Citrat
Qualität: Premium Qualität aus besten Rohstoffen
Hergestellt: in Deutschland nach IFS, GMP Standard
Lagerung: Kühl und trocken
Verpackung: Dosierspender ist nachfüllbar
Geschmack: sehr süß
Verwendungsvorschläge: zum Süßen von Kaffee, Tee sowie heißen und kalten Getränken
Nährwerttabelle
Durchschnittliche Nährwertangaben

Pro 100g

Pro Stück

GDA

 

steviapura Tabs

(1667 Stück)

(60mg)

pro Stück

GDA*

Brennwert

870 kJ (208 kcal)

0,52 kJ (0,1 kcal)

0,00%

2000 kcal

Eiweiß

0,0 g

0,0 g

0,00%

50 g

Kohlenhydrate

40,5 g

0,02 g

0,00%

270 g

davon Zucker

0,0 g

0,0 g

0,00%

 

Fett

0,0 g

0,0 g

0,00%

70 g

davon gesättigte Fettsäuren

0,0 g

0,0 g

0,00%

0,0 g

Ballaststoffe

0,0 g

0,0 g

0,00%

0,0 g

Natrium

0,0 g

0,0 g

0,00%

0,0 g

* Richtwert basierend auf einer Ernährung von 2000kcal Tageszufuhr eines durchschnittlichen Erwachsenen.
steviapura® Stevia Tabs sind frei von künstlichen Süßstoffen, Aromastoffen, Dextrose, Fruktose, Laktose, Maltodextrin, Sorbit oder Zucker.
Usage
Ideal für heiße und kalte Getränke.
Besonders im Früchte-, Kräuter- aber auch im Schwarz-Tee entwickelt unsere einzigartige Stevia Rezeptur ein ausgewogenes süßes Aroma und Geschmack.
Auch mit Kaffee und anderen Heiß- und Kaltgetränken harmoniert der kalorienfreie Genuss der Stevia Süße.
Durch die praktischen und handlichen Minispender von steviapura® lassen sich die Stevia Tabletten einfach dosieren und sind ein idealer Begleiter für unterwegs.
Eine Tablette entspricht der Süße von einem Teelöffel Zucker.
Sie sparen 20 kcal für jeden Teelöffel Zucker den Sie durch eine Tablette steviapura® Stevia Tablette ersetzen. In einem Jahr entspricht das ca. 4,2 kg Fettgewebe bei vier Tassen Kaffee oder Tee am Tag.
HINWEIS:
Wir verzichten im Interesse der Verbraucher auf chemische Tablettenüberzüge. Dadurch entsteht ein Abrieb der Tabletten im Spender was zum Blockieren führen kann. Spülen Sie den Spender einfach unter fließendem warmem Wasser aus und betätigen Sie die grüne Taste mehrmals. Anschließend gut trocknen lassen und der Spender funktioniert wieder einwandfrei.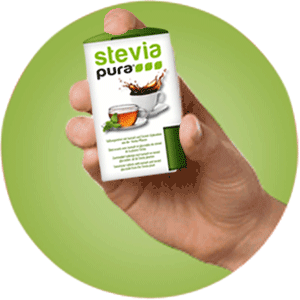 Ratings